Da un sondaggio è emerso che il 69% dei consumatori giudica la qualità di un'esperienza cliente in base al fatto che riceva una "risoluzione rapida" alle proprie domande o richieste di assistenza. Tuttavia, creare le stesse risposte manualmente più e più volte quando si interagisce con i clienti potrebbe essere estremamente inefficiente e richiedere molto tempo anche per gli agenti dell'assistenza clienti più esperti. È qui che i messaggi in scatola sono molto utili. In effetti, risposte predefinite (macro), risposte predefinite e modelli già pronti sono una delle funzionalità di help desk più indispensabili che consentono agli agenti dell'assistenza di migliorare la propria efficienza e prestazioni, accelerare l'assistenza clienti e aumentare la soddisfazione del cliente.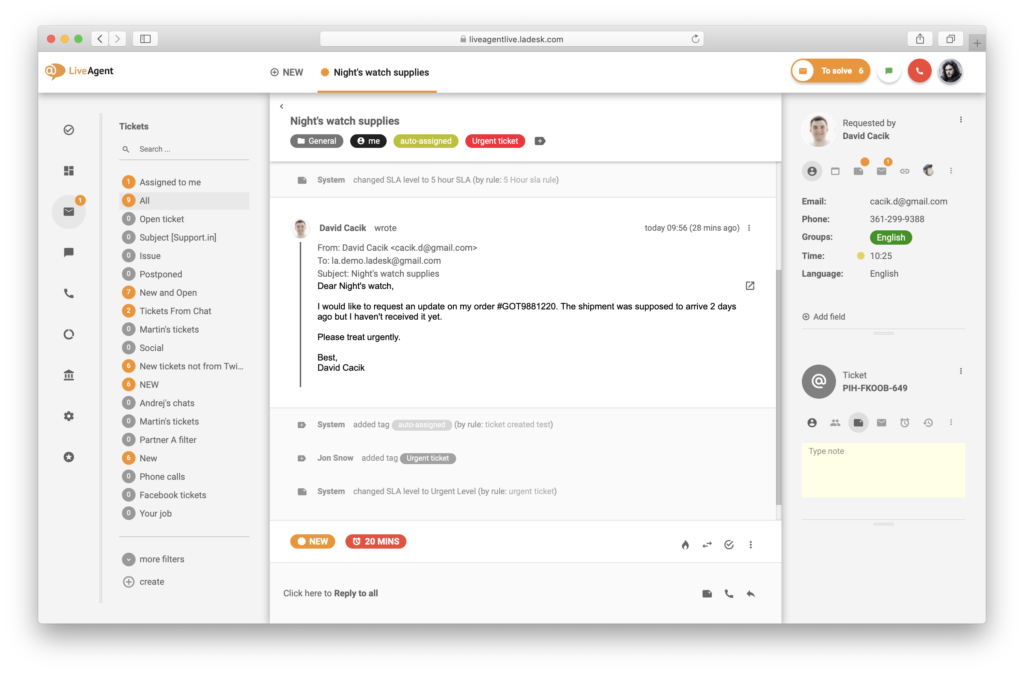 Perché utilizzare i modelli di risposta dell'help desk?
Aiutare gli agenti a risparmiare tempo e fatica quando si tratta di richieste comuni, consentire loro di concentrarsi su query più serie, garantire una riduzione degli errori e aumentare la produttività degli agenti;
Aiutare a mantenere la coerenza nella velocità di risoluzione dei ticket e nella voce del marchio che influisce sulla qualità complessiva dell'assistenza clienti e dell'esperienza del servizio clienti;
Aiuta gli agenti a gestire più facilmente conversazioni difficili, ad esempio dire ai clienti che non creerai una funzione che volevano o negare una richiesta di rimborso;
Poiché i messaggi e i modelli predefiniti non sono risposte automatiche, gli agenti possono personalizzarli facilmente e aggiungere un tocco personale prima dell'invio per migliorare la soddisfazione del cliente.
10 esempi di modelli di risposta all'help desk
Di seguito sono riportati 10 esempi di risposte dell'help desk per alcuni dei problemi e delle richieste di supporto più comuni che i tuoi agenti possono personalizzare e utilizzare nelle loro interazioni quotidiane di supporto.
È stata ricevuta una richiesta di supporto

Hi [NAME],
Thank you for reaching out. We received your request and have already started working on resolving your issue. One of our agents will get back to you as soon as possible. Typically, it takes us less than 24 hours to respond with a resolution.
If you have any additional information that you think will help us to assist you, please reply to this email. If it's an emergency, feel free to give us a call at [number] or start a live chat with our support team.
Thanks again for contacting us,
[YOUR SIGNATURE]

Rispondere alla richiesta di informazioni

Hi [NAME],
Thank you for reaching out! We're always happy to help our customers learn more about our product.
We'd like to direct you to a relevant article from our Knowledge Base that contains detailed information about this feature. We also happen to have a blog post that discusses how to get the most out of it, so while you're here, why don't you give that a quick read too?
In case there are still some questions and you'd like further clarification, please don't hesitate to let us know by replying to this message. We're at your service 24/7.
Enjoy your day,
[YOUR SIGNATURE]

Richiesta di reimpostazione della password

Hi [NAME],
We've received a request to reset the password for the [COMPANY] account associated with (email). No changes have been made to your account yet. You can reset your password by clicking the link below:
Reset your password
If you didn't request a new password, you can safely ignore this email. Only a person with access to your email can reset your account password.
If you need help, or you have any other questions, fell free to call us at (number). We're here to assist you at any step along the way.
Thanks,
[YOUR SIGNATURE]

Cliente che richiede una funzionalità che è sulla tua roadmap

Hi [NAME],
Thanks for the feedback. I can definitely see how this feature would be helpful to our customers. Luckily, our development team is already on it, and we expect to release it next quarter. Would you be interested in being a part of our beta group and one of the first customers to try it out? If so, I'd be happy to put you on the list.
Let me know, and please don't hesitate to reach out if you have any other additional insights that you'd like me to pass on to our development team.
Thanks,
[YOUR SIGNATURE]

Cliente che richiede una funzionalità che non intendi creare

Hi [NAME],
Thanks for the feedback. I can definitely see why you would be interested in that feature. Unfortunately, it's not on our roadmap as of now.
Since our development resources are currently limited, we have decided to tackle features X and Y as a priority, as the majority of our customers have heavily requested them. These features will also be beneficial to you because of (…).
That being said, we'll let you know if anything changes around this. Please do reach out if you have any other requests – we're always here to listen.
Thanks,
[YOUR SIGNATURE]

Cliente che richiede una funzione che è stata rimossa

Hi [NAME],
Thanks for reaching out. I can definitely understand that it's frustrating to lose a feature that you've come to rely on in your business. Unfortunately, we are not planning to bring it back any time soon.
The reason is that it was a complex feature to maintain. It wasn't being used by the majority of our customers, which meant we were spending a lot of development time and resources on something that wasn't making our product better for most users.
However, by making a decision to drop it, we've managed to allocate those resources into building (new features) that will be launched much sooner than we otherwise could have achieved.
I realize it's not the answer you were hoping for, though. Some of our other customers have found that (alternative feature) is a fairly good substitute for that functionality. If you'd like to, I'd be happy to give you my best advice on how you can use it.
Sincerely,
[YOUR SIGNATURE]

Accettare una richiesta di rimborso

Dear [NAME],
Thank you for contacting us to request a refund on your purchase of [PRODUCT/ SERVICE]. We are sorry to hear our product didn't meet your expectations. Because your request falls under our refund policy, we will gladly honor your decision.
We have processed your request and have issued a refund to your credit card company. It may take up to [number of days] to see this credit on your account.
If there is any way for us to retain your business, we would love the opportunity to try. Just let us know, and we will do whatever we can. Feel free to contact us also if you have any further questions.
Regards,
[YOUR SIGNATURE]

Negare una richiesta di rimborso

Dear [NAME],
I'm sorry to hear you're not happy with our [PRODUCT/ SERVICE]. We've received your request for a refund and we regret to inform you that it has fallen outside of our refund policy as stated here.
While we're unable to provide a refund at this time, we value your business and would like to offer you a discount of 15% on your next purchase.
If there is any way you feel we could improve our product/ service, please don't hesitate to let us know.
Sincerely,
[YOUR SIGNATURE]

Preoccupazione per la tutela della privacy

Hi [NAME],
Thank you for your inquiry. We understand data privacy and security is a major concern for our customers. At [COMPANY NAME], we want you feel comfortable sharing your personal data through our website, so privacy is something we take very seriously.
We've taken proper precautions to completely secure your data both online and offline. We use encryption when transmitting your sensitive personal information, and the servers storing your data always adhere to independent third-party security certifications.
You can read the full version of our official privacy policy here: [link]. If you ever feel that we are not abiding by this privacy policy, please contact us immediately at [number].
Regards,
[YOUR SIGNATURE]

Annulla la richiesta di iscrizione

Hi [NAME],
Thanks for giving [PRODUCT/ SERVICE] a try. As much as we would like you to stay with us for the long term, we understand and accept your decision to cancel your account regardless of any reason. We have a quick question that we hope you could answer that would help us improve [PRODUCT/ SERVICE].
Why did you decide to cancel? Just click on the most appropriate answer:
Didn't find a good use case for the productWanted more featuresPricing too high
We appreciate the help and hope to welcome you back again in the future!
All the best,
[YOUR SIGNATURE]

Ready to use our help desk templates?
LiveAgent is the most reviewed and #1 rated help desk software for small to medium-sized businesses. Try it today with our free 14-day trial. No credit card required.