Quando si comunica con clienti, clienti o potenziali clienti, trovare il modo giusto per interrompere una conversazione è fondamentale tanto quanto un'apertura corretta. In effetti, chiudere un'interazione in modo professionale, educato e rispettoso può effettivamente trasformare anche quella che potrebbe essere iniziata come una conversazione spiacevole in un'esperienza positiva del servizio clienti e lasciare al cliente una buona impressione finale.
Suggerimenti di base per terminare le conversazioni con i clienti
Usa una o più frasi di fine conversazione più comuni pertinenti all'argomento dell'interazione (ringraziare un cliente, ribadire le tue scuse, informare sui passaggi successivi ecc.).
Scegli il vocabolario, il tono e lo stile giusti che si adattano meglio al tuo pubblico.
Modifica le tue dichiarazioni di chiusura per adattarle ai diversi canali di supporto. Le conversazioni telefoniche ed e-mail richiedono in genere un linguaggio più formale, mentre la live chat e le interazioni sui social media sono generalmente più casuali.
Evita di usare la stessa frase di chiusura alla fine di ogni interazione poiché potrebbe sembrare troppo generica e robotica: personalizza il tuo messaggio ogni volta che è possibile.
Termina in modo positivo chiedendo a un cliente se c'è qualcos'altro con cui potresti aiutare o incoraggiandolo a contattarti di nuovo in futuro.
Assicurati che la tua dichiarazione finale sia educata, amichevole e lasci un'impressione complessivamente positiva.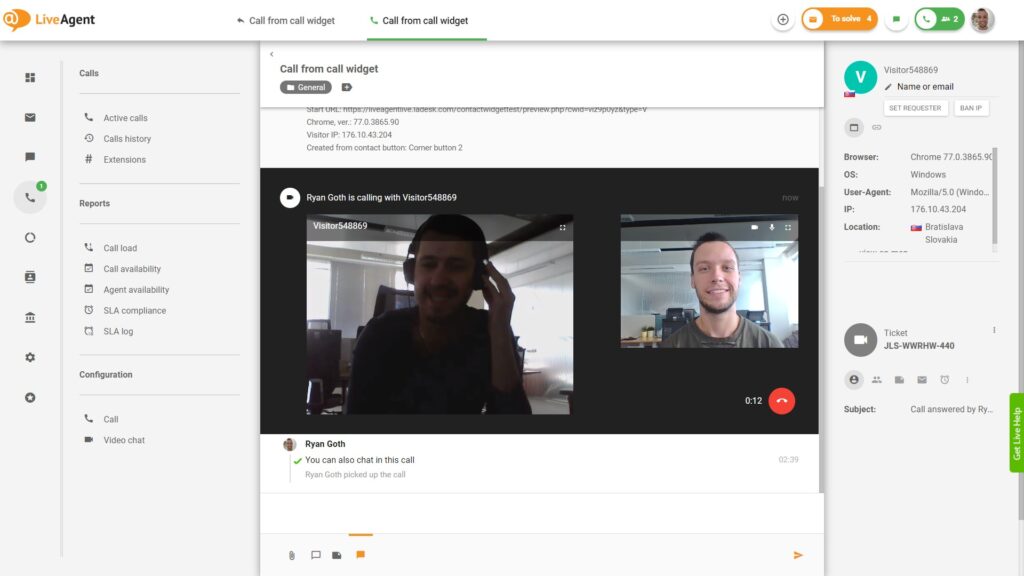 Come terminare una conversazione: script del servizio clienti
Secondo il sondaggio di American Express, il 68% dei consumatori ritiene che un simpatico rappresentante del servizio clienti sia la chiave per esperienze di servizio positive. Di seguito sono riportati alcuni esempi collaudati di come è possibile terminare le conversazioni con i clienti in modo professionale attraverso vari canali di supporto per garantire ai clienti un'esperienza sempre piacevole ogni volta che interagiscono con te.
Come terminare una telefonata: frasi di chiusura della chiamata
Come terminare un'e-mail: frasi di chiusura dell'e-mail
Come terminare una conversazione sulla live chat
Ready to put our templates to use?
LiveAgent is the most reviewed and #1 rated help desk software for small to medium-sized businesses. Try it today with our free 14-day trial. No credit card required.
Free Trial
Torna ai modelli